PCCC thanks Fernando Lugo and Professional Touch Paint for becoming a Major Sponsor of the May 18, 2024 PCCC Car Show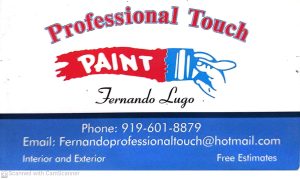 https://www.professionaltouchpaintraleigh.com/
ABOUT PCCC
Who we are
In the Late 70″s a 55/56/57 Chevy club  was organized to be an affiliated club of Classic Chevy International. The club met at the  Jaycee Community Center on Wade Av. in Raleigh. It was decided at the January 1980 meeting that the the club would be known as the Piedmont Classic Chevy Club.
In 1985 the club was officially incorporated as a nonprofit corporation. Over the years the club has grown along with classic car collecting. Today we include all Classic US makes model years 25 years old and older.. We have gone from an average 15 to 25 member families in the 80's to 40-50 member families in the 90's to where today our membership is approximately 150 + member families.
Learn More
Next Piedmont Classic Chevy Club Business meeting is 7pm
Monday November 27, 2023
at Carolina Barbecue 733 US-70 E, Garner, NC 27529.
If you plan to eat please arrive at 5:30pm